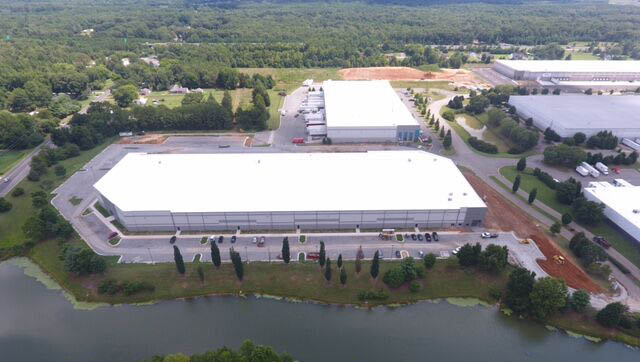 « Back to News
Bunzl Relocates RVA Operation to Henrico's Airport Distribution Center
October 2017
Bunzl Distribution Midatlantic LLC has leased 114,009 square feet of space in the newly built Building B in Henrico County's Airport Distribution Center.  Bunzl supplies a range of products to food processors, supermarkets, non-food retailers, convenience stores and other users, including food packaging, disposable supplies and cleaning and safety products, and will relocate its Richmond area operation to this facility.
Developed and built by Becknell Industrial, Building B features a total of 153,504 square feet, with 32′ clear ceilings, LED lighting, ESFR sprinkler system and 7″ unreinforced concrete slab.  Construction of Building B was completed in the third quarter of 2017, with 39,405 square feet of residual space available for lease.  Clifford B. Porter, CCIM, SIOR of Porter Realty Company, Inc. represented Becknell in the lease to Bunzl and is the exclusive agent for the park.
Becknell has also begun construction on Building D in the same park, which will include 202,560 square feet of distribution space.  The park is home to three other existing facilities, including Building C, which was completed in 2008 and purchased by Becknell along with the pad sites in 2014.  The park's occupants include WestRock, Batesville Casket, Forward Air Solutions, and Graybar among others.  Building E was completed in 2016 and is fully leased to Premier Store Fixtures.
Becknell Industrial specializes in the development and management of industrial properties nationwide, with holdings in 32 states, and offices in Chicago, Illinois and Indianapolis, Indiana.