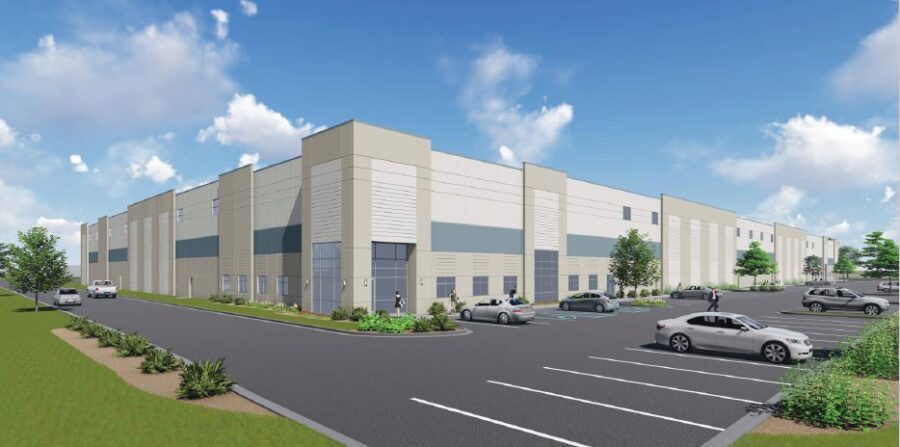 « Back to News
Southeast Real Estate Business Industrial Review: I-85 Corridor Expansion
November 2021
Porter Realty was asked to contribute to a recent review of the I-85 corridor expansion through multiple states, published by Southeast Real Estate Business.  Click here to read the full article (excerpt below). Pictured is a rendering of the Sauer Industrial Center, in development by Becknell Industrial on an 84-acre parecl near the Richmond International Airport in eastern Henrico County.
"Of all the regions in the country, the Southeast has the most high-growth markets, several of which are situated along Interstate 85. The 669-mile interstate begins in Montgomery, Alabama and ends a few miles south of Richmond in Petersburg, Virginia. Along the way, I-85 goes directly through Auburn and Opelika in Alabama; LaGrange, Newnan and Atlanta in Georgia; Greenville and Spartanburg in South Carolina; Charlotte, Greensboro and Durham in North Carolina; and finally the southern outskirts of metro Richmond in Virginia…
Cliff Porter, executive vice president of Porter Realty/CORFAC International, says that Richmond's industrial market was strong heading into 2020 but really took off amid the COVID-19 pandemic, much like the overall U.S. industrial sector.
'The industrial market has not slowed down during the pandemic – if anything, it seems like it has accelerated the need and demand for space here,' says Porter. 'For the overall Richmond market, the product is in the pipeline to meet that demand, but it's probably not being built fast enough.'
Similar to Charlotte, Richmond is now willing multi-market economic development deals as companies are attracted to the market's available land, access to transportation modes and skilled labor. Wegmans Food Markets, an upscale submarket chain based in Rochester, New York, recently selected Hanover County on the north side of Richmond for its new 1 million-square-foot distribution facility."